A message to our supporters and update on next steps
Cross-post by
Abhishek Phadnis & Chris Moos
LSESU Atheist, Secularist and Humanist Society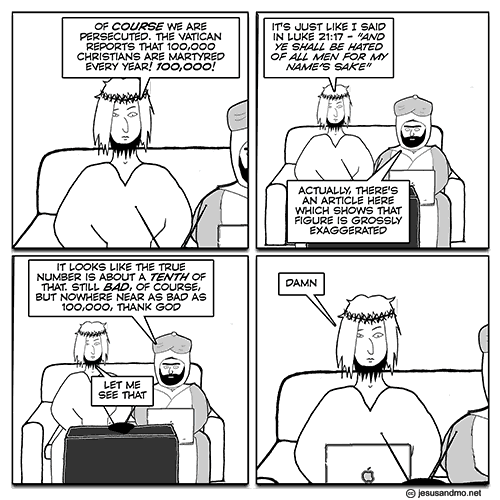 We would like to thank all of our supporters personally and on behalf of the LSESU Atheist, Secularist and Humanist Society for their kind support relating to the incidents at the LSESU Fresher's Fair of October 3 and 4.
We are overwhelmed by the support we have received since. Our partner organisation, the National Federation of Atheist, Humanist and Secularist Student Societies, and through them the British Humanist Association as well as the National Secular Society, have not only publicly stood by us, but also helped us get legal advice. We are immensely grateful to David Wolfe, QC and Tamara Jaber of Matrix Chambers, as well as Dr Ronan McCrea and Professor Eric Barendt of the UCL Faculty of Laws, for their advice and support in this difficult situation.
With their help, we have written to the LSE to ask for a clarification as to how our wearing "Jesus & Mo" t-shirts could be said to have amounted to a violation of any rules, regulations or laws. As of this writing, neither LSE nor LSESU have explained to us how and what part of our t-shirts were "offensive" or "harassing", what the contents of the complaints against us were and how they were assessed, and how our right to freedom of expression was taken into account in their assessment of the matter. We have yet to receive an apology for the intimidation and harassment of the LSE and LSESU members of staff.
We have, therefore, submitted a complaint to the Director of LSE, Craig Calhoun, under the provisions of the LSE Free Speech Code, pointing out that LSE has a legal obligation to protect freedom of expression on its premises. We hope that both LSE and LSESU will respond to our complaint by acknowledging that wearing our t-shirts did not amount to harassment; reviewing their procedures for assessing complaints of alleged harassment or offence; and acknowledging that the actions of the LSE and LSESU officials were unacceptable and interfered with our right to free expression.
Standing up to the LSE and LSESU is a daunting prospect for two students of such a small society, and our supporters have helped keep our spirits up. A petition in our support, set up by LSE Student Governor Jason Wong, has received 2,500 signatures. Academics from LSE and elsewhere in the United Kingdom have come out in our support, as have concerned citizens of all faiths and none from all corners of the globe. News outlets such as the Guardian, the Independent and the Times have covered the incidents. Our friends at American Atheists, the Lawyers' Secular Society, the Council of ex-Muslims of Britain and Student Rights have offered their support, and public intellectuals and social activists such as Maryam Namazie, Gita Sahgal, Ophelia Benson, Peter Tatchell, Anne-Marie Waters and Richard Dawkins have backed our right to freedom of expression.
We believe that freedom of expression is inextricably linked to the functioning of a democratic and diverse society as well as higher education, and we sincerely hope that by pursuing this matter, we will help protect the liberties of students not just at the LSE, but throughout the United Kingdom. After all, as George Bernard Shaw, founder of the LSE, said:
"Put shortly and undramatically, the case is that a civilisation cannot progress without criticism, and must therefore, to save itself from stagnation and putrefaction, declare impunity for criticism. This means impunity not only for propositions which, however novel, seem interesting, statesmanlike and respectable, but for propositions that shock the uncritical as obscene, seditious, blasphemous, heretical and revolutionary."
Once again, our thanks and gratitude goes to our supporters. We will make sure to keep the public informed about the response we receive from the LSE.
Stay updated with the Atheist Society on: