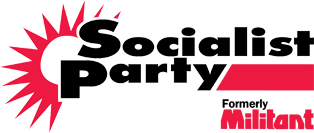 The campaign by the Socialist Party to gain readmission to the Labour Party is really floundering quite badly. Most people on the left don't take their petition and protest seriously let alone anyone else. The latest edition of their rag
The Socialist
contains pleas from "trade unionists, who like the signatories previously published are all members of....well you can guess.
Hannah Sell writes (in all seriousness):
Earlier this month a joint application for Labour Party membership was submitted to the Labour Party NEC. It was from 75 people, with a combined Labour Party membership of over 1,000 years. A petition in support of their application has been signed by hundreds of trade unionists and activists.

All the applicants have previously been expelled or excluded from the Labour Party because of their socialist ideas.
Besides the fact that these expelled "members had all been members of the Revolutionary Socialist league (Militants, real name) at the same time and were trying to take over the structures of the Labour Party to turn it into a revolutionary Trotskyist organisation is not mentioned as the reason these "socialists" had been expelled. Nothing to do with their ideas, they were simply conducting a secret project as part of a distinct and separate party.
The totally useless Deputy General Secretary of the PCS union, Chris Baugh is quoted as saying:
"
From my teens I was a Labour Party member for over 20 years before being expelled in 1995. For PCS members, Blair and Brown meant widespread privatisations, job cuts and attacks on pay and conditions. Blairism nearly destroyed Labour as a voice for working people. The election of Jeremy Corbyn is a chance to change things. In a personal capacity and alongside those who were unfairly expelled for our socialist ideas, I hope the Labour Party will agree our application to rejoin."
No Chris you were expelled for being part of an organisation that was trying to take over the Labour Party. You were and remain a member of Militant, now renamed the Socialist Party.
The real reason for the Socialist Party's new (re)turn to Labour is the simple fact their Trade Unionist & Socialist Coalition has collapsed. Their projects have been ignored by everyone else on the left who have turned to Corbyn.
The TUSC has ceased standing candidates but the comrades are having a formal conference about the future direction of their electoral front in January next year not that it has one.
The Socialist Party campaign remains ignored except by inveterate "Trot Spotters".