FUNDRAISER FOR CEMB: AFFECTIONATE TRIBUTE TO MARLENE DIETRICH
Date:
Thursday 27 February 2014; Time: 19:30-21:45
Venue:
Conway Hall, 25 Red Lion Square, London WC1R 4RL
Join Terry Sanderson as he explores the extraordinary life and career of one of the 20th century's great entertainers. Using generous extracts from her films, he'll examine her fantastic Hollywood career, and then accessing rare archive material, will look at her heroic war time efforts against the Nazis. The show culminates with a complete showing on the big screen of her famous one-woman show with which she toured the world. Accompanied by Burt Bacharach and his orchestra, this is Dietrich at her peak. The event is a fundraiser for the Council of Ex-Muslims of Britain and coincides with LGBT history month. Tickets can be purchased here:
www.secularism.org.uk/tickets.html
SECOND KAFIR COMEDY NIGHT HOSTED BY MAHA

Date: Monday 10 March 2014
Time: 19:00-21:00
Venue: The George, 213 Strand, London WC2R 1AP (nearest Tube: Temple)
Open mic comedy for interested kuffar starts at 8pm. Look, we know it's not easy defending yourself constantly against a religious mob. So take a break from the forums and let out the frustration with a laugh. If you've got some steam to let off, this is your night to do it. RSVP at
exmuslimcouncil@gmail.com.
But don't laugh too much, Hell awaits us all later.*
Entry: £3; £1 unwaged.
* "Let them laugh a little: much will they weep: a recompense for the (evil) that they do" (Surah At-Taubah 9:82).

EVENING DRINKS WITH LAWYER ANA GONZALEZ ON APOSTASY AND ASYLUM

Date: Monday 28 April 2014
Time: 18:30-20:00

Venue: The George, 213 Strand, London (nearest Tube: Temple)

Ana Gonzalez, a lawyer of a well-respected law firm which has represented a number of apostate asylum claimants and CEMB members will speak about the right to asylum and apostasy. No need for RSVP.
Entry: £3; £1 unwaged.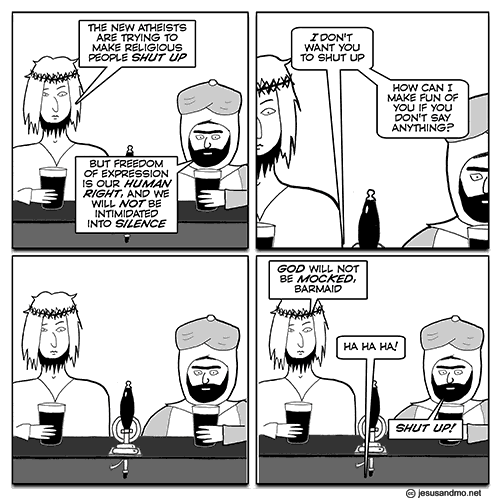 More from Jesus & Mo:
here