The PCS union held a special conference on Scottish Independence in Glasgow today. There had been some concern over the event advertised as a "high profile event for PCS Scotland" since the unions circular (BB/SCR/414) also clearly stated that the afternoon session would be closed to the press and the media.
The circular (signed by PCS Assistant General Secretary Chris Baugh & PCS Scottish Secretary Lynne Henderson contained the following and unprecedented statement that:
The national president will ask that no delegate or observer text, tweet or communicate the proceedings during the conference. This is an internal PCS meeting and it is imperative that members receive feedback from their union and not from other sources.
Given that this issue had been widely debated across PCS in Scotland as part of the AGM season that branches are now coming to the end of such a censorious move was surprising if not exactly untypical of the centralised and bureaucratic way that PCS is increasingly run under the Socialist Party.
According to
STV News
:
Janice Godrich, PCS national president and chair of the conference, said "Today we've seen PCS members present thoughtful, balanced arguments weighing up the pros and cons of the way forward for the union and its members. Today does not mean sitting on the fence.
Yeah right.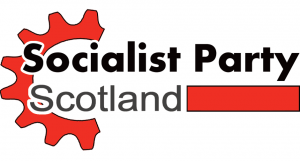 Such a position comes as a surprise given that the Socialist Party in it's Scottish franchise clearly supports independence:
Socialist Party Scotland, while supporting a Yes vote in September, is campaigning against the SNP's pro-business blueprint. We stand for an independent socialist Scotland as part of a democratic and voluntary socialist confederation with England, Wales and Ireland as a step to a socialist Europe.
One can only surmise pragmatism has gripped the Socialist Party Grandees for the time being. Taking sides may have caused divisions in PCS that they could not afford at election time, which also explains the unnecessary presence of AGS Chris Baugh, the weakest link in the Trotskyist coterie that runs the union.
Despite two large DWP branches in East Kilbride and Glasgow voting in favour of independence, STV reported:

Members of the Public and Commercial Services (PCS) union voted on Saturday on whether to back the Yes or No campaign or stay neutral at a conference in Glasgow.

They voted overwhelmingly to stay neutral in their position on September's independence referendum
The fact that PCS has knowingly placed itself on the sidelines will come as no shock to members across the UK who are increasingly used to being in an ineffective union.