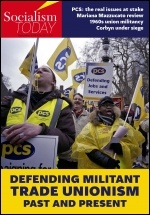 The crisis inside the Socialist Party of England (formerly Militant) inside their PCS union stronghold has now gone very public. Earlier this week the Socialist Party (Scotland) a tiny group of around 50 or so people published support for the re-election Chris Baugh as Assistant General Secretary despite Janice Godrich being resident (sometimes) in the wilds of Renfrewshire.
The article used comes from the usually unreadable Socialism Today, allegedly their "theoretical journal"
Hannah Sells and Rob Williams write:
...at this year's PCS conference, Mark Serwotka, PCS general secretary, launched a campaign to support Janice Godrich, currently union president, for the position of assistant general secretary (AGS), in opposition to the incumbent, Socialist Party member Chris Baugh, who has held the position since 2004...
Mark Serwotka had previously approached the Socialist Party, giving us an ultimatum that, if we selected Chris Baugh as the Socialist Party's nominee for the LU candidate for AGS, he would put forward another candidate, and that his preference was Janice Godrich, a fellow Socialist Party member.

It has since become apparent that Janice had already agreed to this proposal and was determined to press ahead, regardless of the outcome of discussions in our party. As is our tradition, the Socialist Party had a comradely and democratic internal discussion, with both sides listened to and given equal time to put their views. An overwhelming majority agreed that Chris should stand. Unfortunately, a small number of Socialist Party members, including Janice, disregarded the party's decision.

Mark Serwotka initially attempted to argue that his opposition to Chris Baugh was personal. However, it is not credible to suggest that such a serious conflict could develop for purely, or even primarily, personal reasons. To date, Mark has refused to engage in a debate about his political criticisms of Chris, something he would correctly demand of any left standing against him for general secretary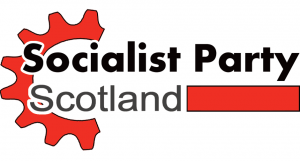 Actually this would not be the first time the left in PCS has tried to remove Chris Baugh but after his "meltdown" at an LU conference he was allowed to continue. However this time the axe has fallen.
PCS has been in difficulty for some time. Their membership has dropped, in part due to job losses but a lot of members simply dropped membership and of course a whole section in the National Crime Agency walked out en-masse and formed their own union . (See
Serwotka Suspends SOCA reps in PCS
,
Mass Resignations Of Reps In SOCA
and now have a successful union in the form of
NCOA
.
Nevertheless internal conflicts threaten both the unity of the Socialist Party and PCS itself long dominated by the far left:
....the duties of the elected AGS, Chris Baugh, have been repeatedly undermined or removed - in effect, handed to unelected officers. Mark Serwotka justified this in discussions with Peter Taaffe, Socialist Party general secretary, and Rob Williams, the party's national industrial organiser. He then wrote to the Socialist Party confirming his determination to stand a candidate against Chris, alleging "repeated attempts to undermine my decisions and my authority as GS".

We have refuted this accusation verbally and in writing, but the response of a general secretary to conflict with the union's only other elected official should not be to remove his duties and diminish his role. It should be to bring the issues to the elected leadership of the union, the NEC, for discussion and decision on the way forward. This has never been done.

Instead, the handing of Chris's responsibilities to unelected officials has continued, without any discussion on the NEC.
The authors continue:
We do not accept that the 'personal' behaviour of Chris Baugh is responsible for the current situation. Not one concrete allegation about his behaviour has been made within LU or on the PCS NEC.
It seems the Socialist Party is at the centre of the conflict. The SP are renowned for their bureaucratic maneuvering and the current problem is over the 2017 decision at PCS to elect all full time officers of the union.
Why has that manifested itself in opposition to one individual, Chris Baugh? Firstly, as the only other elected full-time official, it has naturally occurred that those who have come into conflict with unelected full-time officials acting in Mark Serwotka's name look to Chris for assistance. Secondly, because of his membership of the Socialist Party.
Of course, there are numerous good left activists in PCS who are not members or supporters of the Socialist Party, many of whom support Chris for AGS. And, unfortunately, Janice Godrich agreed to be Mark Serwotka's preferred candidate to replace Chris despite being a member of the Socialist Party. Nonetheless, being part of a Marxist party - with a programme for the transformation of the union movement, and of society - has aided Chris and others in standing firm under considerable pressure.
In conclusion the comrades argue:
We call upon all rank-and-file PCS members not to go down the dangerous road represented by Janice Godrich's candidature for AGS, and to support Chris Baugh and the Socialist Party's well-tested methods of building open, democratic, fighting broad lefts as a lever to transform the trade union movement.
There will be at least three candidates for the AGS post. Janice is likely to be the bookies favourite and Baugh could even face coming third if the Independent Left field a decent enough candidate.

And finally the Socialist Party has finally admitted there has been a formal split and a new group called Socialist View has been formed around Janice. The SP website announces:

Socialist View' (SV) has been launched by those in PCS who are supporting the candidature of Janice Godrich for assistant general secretary against Socialist Party member Chris Baugh who is the incumbent and has been in office since 2004. We believe that this is a further divisive step in splitting the left in PCS, following the announcement of Janice's candidature at PCS conference in May, which for many delegates overshadowed the launch of the strike ballot on pay.

More on this to come no doubt.