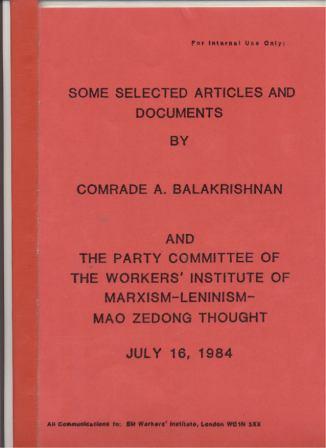 Just over a year ago it was reported that a couple associated with an extreme Maoist group had been arrested on "slavery" charges. (See
here
). The BBC has now reports:
Aravindan Balakrishnan, 74, has been charged with one count of cruelty to a person under 16, four counts of rape and 19 counts of indecent assault.

The suspected offences relate to three women. No further action is being taken regarding his wife arrested last year.

Mr Balakrishnan, who was arrested in Lambeth in November 2013, is due before Westminster magistrates on 17 December.

Anthony Connell, senior prosecutor at the Crown Prosecution Service, said there was "insufficient evidence" for the prospect of conviction relating to Mr Balakrishnan's wife, who was arrested at the same time.

The three alleged victims - a Briton in her 30s, an Irish woman in her 50s and a Malaysian woman in her 70s - had lived at an address in Brixton until October 2013.

A false imprisonment charge against Mr Balakrishnan relates to a 14-year period between January 1999 and October 2013.

The four rape charges span periods from 1980 to 1983, and the indecent assault charges cover periods from 1980 to 1992.
The organisation to which Balakrishnan belonged was called the The Workers' Institute of Marxism-Leninism-Mao Zedong Thought and was much derided, even by other Maoists as a lunatic group. Their leaflets were considered comedic giving all of us a good laugh.
However none of us are laughing now.
It's one thing to deride a group for being nutters, but there was a more sinister element that has now come to light.
Slavery, child abuse and rape are no laughing matter.
The affair has highlighted yet again the problems that exist within small political organisations that develop a cult like behaviour to insulate themselves from the outside world.
The Socialist Workers Party have torn themselves apart not only over the widely publicised "comrade delta" affair (which is never likely to go to court), but also other allegations of several other incidents of rape.
Then there's the well known decades of abuse that occurred in the Workers Revolutionary Party until it's leader Gerry Healy was exposed in the 1980s. He died without any charges ever being made.
Of course left-wing organisations are not alone in having these kinds of problems. The Liberals had Cyril Smith and there remains much to be exposed in other areas of the establishment, particularly around child abuse.
No matter what the politics, religion or philosophy of an organisation of any type the danger that leading members will abuse their authority will always be a threat.
All of us must remain vigilant to ensure such depravity is exposed and those responsible are brought to justice.
No one is above the law.
No one is above common decency.