Non Fiction (Books):
The French Intifada: The Long War Between France and its Arabs by Andrew Hussey (Granta Hardback £25)
I picked up this volume on the strength of a positive review in The
Sunday Times Culture
magazine and certainly found it both interesting and gripping at the same time. Andrew Hussey certainly doesn't pull his punches in this "warts n' all" look at the current plight of deprived
banlieues
and their continuous fight against the French State. Indeed, just by reading the title of the first chapter (Fuck France) you'll soon get the idea.
Much of what he writes about in relation to the suburbs of Paris and other French cities will be unfamiliar to most of us even though France is literally just a short train ride away these days. France has the largest Muslim community in Western Europe, based on immigration from its' former colonies over the other side of the Mediterranean.
Hussey takes on a tour of grievances both real and "imagined" by looking at the alienated young Muslims from the Algerian, Tunisian and Moroccan diaspora and then gives the reader a much needed history lesson on French colonialism in North Africa.
Given most of us see France from an Anglo-Saxon perspective, the historical trail will also be mostly unfamiliar. Hussey takes us from the beginnings of French conquests in North Africa (Algeria June 1830) to its ignominious end in the post colonial era with the fall of of Tunisian dictator Ben Ali which began the recent so-called "Arab Spring".
A useful book which takes the reader through the complex world of Arab/Islamic relations with a major European power and doesn't shy away from the violent and uncomfortable truths that continue to influence both regional and domestic politics alike.
Fiction: (Comics):
Caliban by Garth Ennis (Writer) and Facundo Percio (Artist) Avatar Press $3.99/£3.10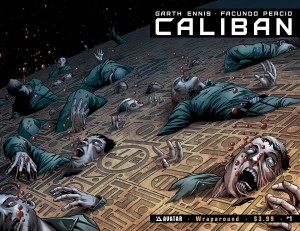 The latest "on-going" series from the small, but well worth looking out for publisher, Avatar press sees Garth Ennis taking a break from his current bout of horror writing (sort of) to give us a new science fiction epic, which is guaranteed to be one "hell" of a ride.
Take one dysfunctional crew hurtling through hyperspace on a one way mining mission, "crash" it into an alien ship and you have have the opening sequence. Actually "crash" isn't quite the right word "fuse" seems to be more appropriate as the cover above seems to illustrate quite effectively!
Starlight by Mark Millar (w) and Goran Parlov (a) Image Comics $2.99/£2.65
The second issue of
Starlight
, part of the
Millar World
range of comics hit the stores this week. Some readers may be familiar with Millars work on the sadly departed CLiNT! magazine that used to be found on newsagents shelves in the UK. This collaborative effort with the likes of Jonathan Ross failed to gain enough readers, though its infrequency of publication (especially towards the end of the second series didn't help matters.
Nevertheless for those of you with a comic shop near you (there are well over a hundred around the UK) Millars efforts can still be picked up in the original US format. This story introduces us to Captain McQueen, the universes greatest hero, or at least he was.
After disappearing through a wormhole all those years ago he saved an entire world from a dictator, but instead of staying as the (beautiful) Princesses consort he returns to Earth. (Yeah I know, go figure). Here of course they don't believe a word of his story and he ends up a bitter old man, which is where this story takes up.
Despite being 62, a young kid arrives in a spaceship saying he's needed again. A bit like Flash Gordon going back to Mongo as a Grandfather figure. Sounds fun and looks like it will be!
Action Comics by Greg Pak (w) and others (a) DC Comics $3.99/£3.10
Superman is a character that will be familiar to both comic fans and others around the world as an iconic figure appearing across the media fighting evil and always getting the girl, usually Lois Lane.
Except this isn't the continuity that most people will be familiar with. DC comics decided to relaunch their comics universe as
"The New 52"
in late 2011 so this world's Superman is a wee bit different as is the world around him. Lois Lane is not his "beau", in fact he's going out with Wonder Woman. They even have a joint team-up comic which is well worth a read. Batman doesn't approve (broody old git that Bruce can be) but not for the reasons you might think.
So if you haven't dipped in to the new DC universe, this is a good starting point as its' the prelude to the
Doomed
Storyline. No secrets Doomsday, the creature that "killed" Superman back in his old incarnation is on the loose. While much of the action in this issue is a recap and ending to a string of stories previously taking place in
Action Comics
, you don't need to have read them to catch on to what's going on.
Just suspend disbelief and enjoy the ride.
If you are in London & want to obtain some good comic books, I recommend my local comic shop:
Go to: http://www.thirtiethcentury.free-online.co.uk/