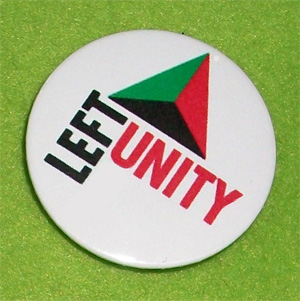 The newest of the left wing groups has not had an easy ride since it was established. From the beginning it was beset with factional problems, of it's own making one has to say. Before the "party" had even been established they allowed the creation of "Platforms" (another word for factions) inside their organisation. A godsend for some of the more parasitic sects that inhabit the darker recesses of the far-left.
Still despite a "singing" delegate at their founding bash (don't ask it was embarrassing to see even on line) they set up shop and despite the momentous loss of err..Tony Greenstein, they have settled down with around a couple of thousand members.
One of their big "selling points" was that of "safe spaces" which was supposed to allow for comrades, particularly women and the more vulnerable to be able to put forward an opinion without being shouted at or abused by those who normally dominate such meetings.
A worthy practise one would think.
But no from the beginning this has been opposed by those who err...like shouting at other comrades. The kind of behaviour which puts people or should I say "ordinary workers" from participating in politics. Something we see in union meetings when the comrades have a line to push. Anyone who dares to disagree is a "class traitor" or "capitalist pimp" as one self-righteous twit wrote on the PCS Face Book page. Still I digress a little.
There's much ado ado about something on the Left Unity National Committee it would seem as one of its members, Bianca Todd resigns and demands to be allowed to stand again. There's been rumblings about her conduct as an employer that has caused accusations of bulling from fellow comrades.
This isn't exactly up to date news but the
Independents
diary has picked up the affair:
"From an early age, my grandfather instilled in me one key value: never, ever forget your roots," Bianca Todd announced in The Guardian newspaper earlier this month, as she accused Ed Miliband of forgetting his.

In the 1980s, her grandfather, Ron Todd, was the most powerful trade unionist in the land, the general-secretary of the Transport and General Workers' Union, whose massive block vote was the principle obstacle in the path of Neil Kinnock's efforts to steer Labour into the centre ground. Todd's granddaughter is a leading light in the Unite union and of Left Unity, which seeks to pull together the disparate groups left of the Labour Party.

An employment tribunal last week awarded three former staff of a Leicestershire youth organisation, Children: Homes, Advice and Teaching Ltd (C:HAT Room), more than £2,000 in unpaid wages and other monies owed to them. They had worked for C:HAT Room for about six months without being given contracts. The company's head of service is Bianca Todd – she who never, ever forgets her roots.
Oh dear.
No further comment necessary.