The PCS has issued a confidential circular (see below) informing the HMRC Group Executive that Margie Rathbone has had her membership of the union "ended".
To: GEC (only)

Colleagues,

Please note that following a recent decision of the NEC, Margi Rathbone is no longer a member of PCS. Central records will be amended accordingly and I shall be writing to the relevant branch to advise to do the same.

Regards,

Peter Middleman
Group Secretary
HM Revenue & Customs Group
Public & Commercial Services Union
Expelled is the word you are looking for comrades. Lets use plain English eh!
Hardly a surprising decision, but why "In Confidence"? Seems bizarre to me, but then the last circular on "Margie Gate" was also not supposed to circulated further.
Only the members are being kept in the dark.
Someone tried to ask about this on the PCS Face Book Page. Oh dear not allowed either. Thread deleted by Cyber control.
Meanwhile the whole issue of the collapse of PCS has started filtering across the Internet as activists return from their hols. Everybody has had something to say. Even Socialist Resistance and there's only one of them in the whole bleeding union.
The exception?
Yeah you guessed it. The Socialist Party!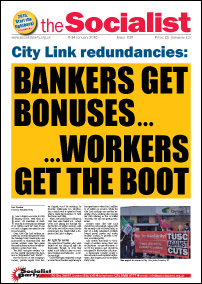 The very people who control and run PCS have nay a word to say in their first edition of the new year.
Bit of an ironic headline considering what they are having to do in PCS due to their collective political and organisational incompetence.
Never mind.
Just don't mention Liverpool.
Oops...