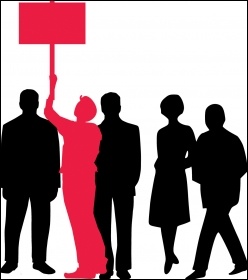 The campaign by the former
Militant Tendency
to get their members (or at least 75 of them) readmitted to the Labour Party continues unabated as they pick up support from...themselves.
According to the latest post on the Socialist Party website signatories now include:
Janice Godrich, PCS president; John McInally, PCS vice-president; Fran Heathcote, Katrine Williams and Marion Lloyd, PCS NEC; John Reid, transport union RMT NEC; Suzanne Muna, general union Unite NEC; Jane Nellist and Simon Murch, teachers' union NUT NEC; and Ian Hodson, bakers' union BFAWU president.
All these people are members of the Socialist Party. Yet the comrades continue to proudly proclaim 300 people have signed their petition, which isn't that many given the size of the Corbynista movement.
The attempt by the Socialist Party to present leading trade unionists as something other than their own members is not just laughable but frankly quite pathetic.
With Ted Knight returning from the political grave the last thing Labour needs is the old Militant Tendency in it's ranks.