Sylvia Anderson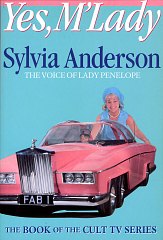 A sad day for
Thunderbirds
fans as Sylvia Anderson, voice of Lady Penelope passed away at the age 88 today. You can find my tribute over at my other blog:
Sylvia Anderson Voice of Lady Penelope Remembered
I also thought it would be useful to catch up on a couple stories covered on
Howie's Corner
recently.
Gerry Downing
First up Gerry Downing who was expelled from the Labour Party for his disgusting views on, well just about everything. His car crash of an interview with Andrew Neil was not enough it seems. The egotistical little man has published his "letter of appeal" to the Labour Party demanding his reinstatement.
Here's a few samples:
ISIS, no matter how reactionary they are, should be supported.... against imperialist attack.
This is why Palestinian solidarity activity is being incrementally banned in a number of Western countries, including many US states, the UK, and most notoriously France. This is the material basis of Zionist power in Western societies. (my emphasis)
Israel is considerably worse than apartheid South Africa, though obviously so far less severe than Nazi Germany itself (though it should be noted that Hitler's regime lasted only 12 years – Israeli terror continues unabated after 70 years).

And he wonders why people find his views abhorrent.
Read his full (rather over-long piece) here:
Whilst the General Secretary of the PCS union enters the Labour Party to "help" Jeremy Corbyn (a) get rid of "Blairite MPs" and (b) to campaign against austerity and government cuts his own organisation is in serious difficulties.
The Times (no link£) reports:
His union's annual accounts reveal that reserves fell by half to £6 million in a year, forcing it to seek extra loans. Auditors warned of a "material uncertainty which may cast doubt about the union's ability to continue as a going concern".
Mr Serwotka who earns £92,000 a year has been a critic of austerity, attacking George Osborne for failing to eradicate the deficit, but his union has suffered a financial crisis of it's own"
People in glass houses....
Finally to end with a good piece of news, veteran comedian Jerry Lewis is 90 today! Here's a short clip to remind you all of the comedy genius he is!
Enjoy!