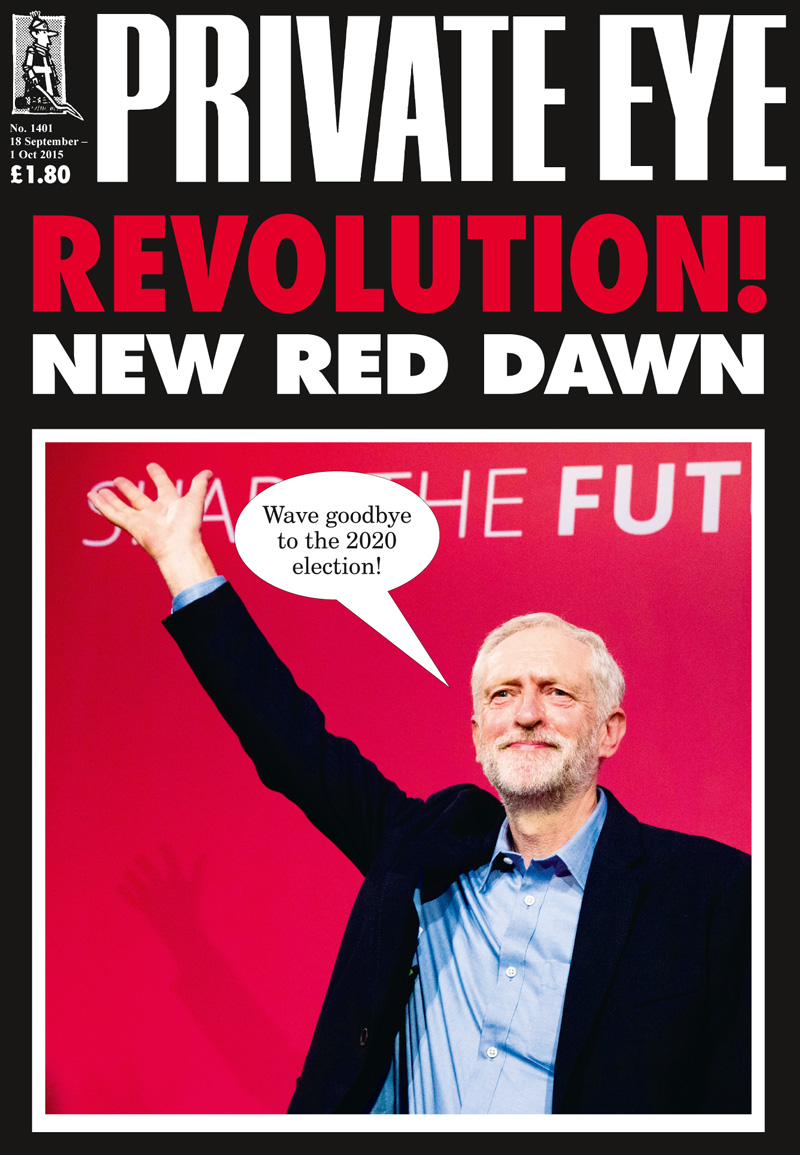 Whilst the activist "half a percent" may have coalesced around Jeremy Corbyn, the public certainly have not. The Independent leads with a
story
outlining how Labour has lost one in five of it's voters already.
A survey of 2,000 people found that Mr Corbyn's election as Labour leader has made one in five people who voted for his party at the May general election more likely to vote Conservative next time. Some 37 per cent of Labour voters say they are less likely to back the party at the next election.
Add to that:
Almost three in four people do not believe that Jeremy Corbyn looks like a prime minister-in-waiting, according to a poll for The Independent.
At the same time Corbyn just keeps scoring "own goals" with ridiculous appoints like this reported in
The Spectator
:
Given that Jeremy Corbyn is a Hamas sympathiser with an IRA sympathiser as his Shadow Chancellor, I imagine he didn't think too much about promoting a little-known Scot named Mike Watson. He is a Labour peer, who now takes a place in Corbyn's frontbench as education spokesman. He is also a convicted arsonist, who quit the Scottish Parliament in disgrace after being caught drunkenly setting fire to a set of curtains during the Scottish Politician of the Year ceremony 2004. He was sentenced to 20 months in prison, which he served in HMP Edinburgh.
Way to go to building confidence in the Labour Party comrade.
At the same time Corbyn is having "trouble" keeping all of his "commitments" as the Guardian reports:

Jeremy Corbyn has pulled out of a planned appearance at the annual Stop the War coalition conference, his final as chairman of the group.

The Labour leader has been a leading member of the group for more than a decade and had been expected to deliver a speech at the meeting on Saturday.

A spokesman for Corbyn, who a week ago won the party leadership in a landslide victory, said he was unable to attend because of his busy schedule.

"His diary is now obviously very busy and today he is preparing for Labour party conference," the spokesman said. "He has made a clear commitment that he will find time to attend an event with Stop the War in the future. He is still very much committed."
Nothing to do with the potential bad press from addrssing a bunch of political misfits, bigots and anti-Western "anti-imperialists"?
Couldn't get much worse anyway.
What with his Shadow Chancellor having to make forced apologies for his support for the actions of the IRA and a "wish" to "go back in time and assassinate Margaret Thatcher he really could do without sharing a platform with the likes of Trotskyists Lyndsey German and friend of CAGE John Rees.
There will be a lot of anti-Western rhetoric, Israel bashing tending on anti-Semitism by some of the Stop the Wars more wild eyed participants.
Not good for the image perhaps Jeremy old boy?
The battle inside the Labour Party is far from over but unless the moderates organise they will be swamped by the Corbinistas. As that happens more people will drift away from Labour.
The far-left are ensuring another decade of Tory rule.
Not that they care. It's all about "the fight". Never mind who suffers so long as they don't budge an inch.
Corbyn is unfit for power.