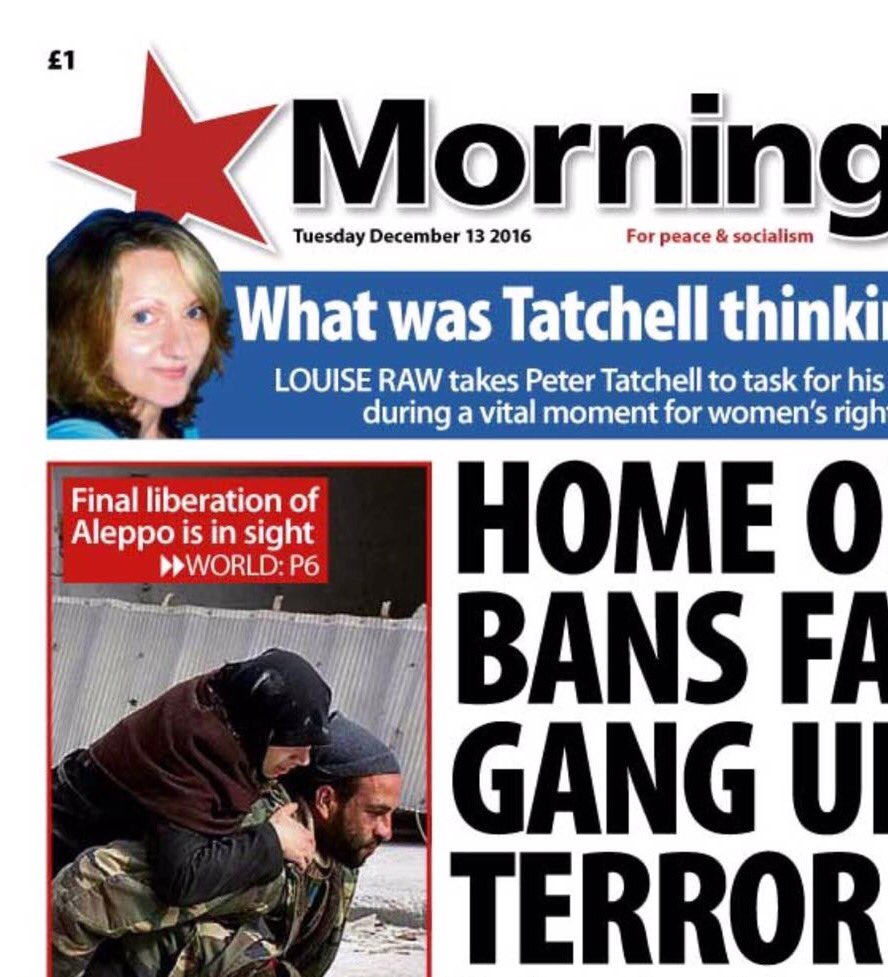 The Syrian civil war has been raging for four long years with over 400,000 known deaths as those who opposed the murderer dictator Assad attempted to free their country which was then pounced on by genocidal Islamists in ISIS and Al-Qaeda making a dangerous situation even more deadly.
The democratic world hesitated, ignored and turned it's backs on those fighting for freedom. Only the Kurds have managed to liberate themselves despite the efforts of Erdogan's Turkey. Only with help from allied air forces of the USA, UK and others did they manage to hang on and push back ISIS.
At the forefront of the war has been the battle for the city of Aleppo. Civilians trapped in a long nightmare facing first the barrel bombs of the Syrian air force then indiscriminate attacks by Russian aircraft. Civilian casualties are of no concern to either Assad or Putin.
As all this went on the left in this country remained (with very few exceptions) silent. Where was the Stop the War Campaign, Momentum, the Communist Party or the new messiah Jeremy Corbyn? Where were the demonstrations, the pickets or the protests?
The Morning Star gives the game away with it's headline "Final Liberation in Sight". All along the mealy mouthed "anti-imperialists" had maintained a distance, always blaming the West, the democracies, the free world within which they live as villains. It suits them not that actions take place from the countries they sympathise with on the ideological grounds that their enemies enemy is their friend.
As the Baathists (Syrian Fascists) conquer the remains of Aleppo reports of disappearances have now been replaced by tales of massacres. Assad and Putin's victory will be a bloody one which given the nature of their regimes is not surprising.
There was a time when the left saw Russia either as a "socialist" state (Communist Parties) or a "degenerated workers state (Trotskyists) but the USSR collapsed at the end of the eighties. Russia is now another capitalist state with growing nationalist fever and developing it's own imperialist ambitions in competition with the rest of the world.
Why do the comrades still defend it. More to the point why do they defend Assad whose brutal regime employed torture and murder of all political opponents as government policy? Why do the left treat these regimes (and other fascist regimes such as Iran) with kid gloves.
Their twisted ideology sees the Western democracies as a barrier to their political ambitions. Their feting and support for dictatorships should serve as a warning of what will happen under their rule should they get their chance.
The left died on the streets of Aleppo today.