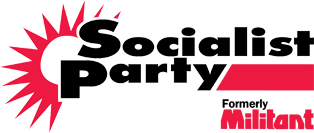 The history of Communism in all it's various forms has been a violent one. Despite attempts by Trotskyists to claim this all began under Stalin who then created a "degenerated" workers state is a falsehood. Both Lenin himself and their false messiah Trotsky were prone to the use of violence to achieve their aims.
Yes they opposed the "individual terrorism" used mainly by anarchists at the time, but the use of force was never far behind the rhetoric.
There was no Bolshevik "revolution" to take state power. It was a coup d'etat. The first actions of Lenin and his right hand man Trotsky was to outlaw and ban all opposition parties. Trotsky then turned his attention to all opposition inside the Communist Party itself.
During the Russian Civil War Trotsky forced unwilling soldiers to fight by having hard-line cadres with guns pointed at their backs to ensure they did not retreat.
Stalin simply bided his time and utilised the same methods (plus a little bit of anti-Semitism) to undermine, isolate and exile Trotsky. The "Left Opposition" founded by Trotsky was rounded up and well, basically murdered.
The "Red Terror" began.
Millions died and in places like North Korea continue to suffer and die in the same of Communism.
Fast forward to today and the various Trotskyists continue to make their claims about how different things would be "if only" Trotsky had been in power. All continue to adjust to a so-called anti-imperialist agenda tailing Islam and claiming every oppression in the world is the fault of the West.
They grudgingly condemn acts of terror but even this statement from the Socialist Party shows their underlying ideological commitment to violence. It's "OK" if it is the "establishment" that attacked in their twisted little world:
The attacker's choice of Westminster - and the fact that he ran towards Parliament - suggests anger against the establishment and
government
, but the victims were ordinary people, especially tourists viewing the Houses of Parliament. People of ten different nationalities were indiscriminately hit. Three people plus the attacker died and seven are critically injured.
In any case, whoever is targeted, acts of individual terror should always be opposed. They are not an effective means to struggle against the establishment.
But who is the establishment and where does such justification take them. Look to the Soviet, the Chinese experience. Communism is mass murder.
As Stalin once put it "One death is tragic. Millions are just a statistic".
Thats' all right then.