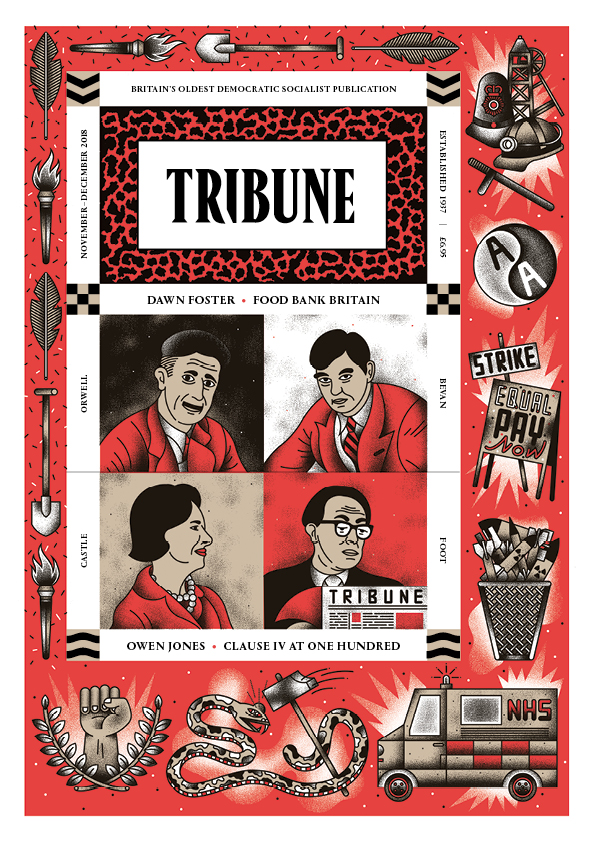 The
Tribune
newspaper was once the mouthpiece of the mainstream Labour Party left with famous editors such as Anuerin Bevan and Michael Foot. It began publication in 1937 and has just been relaunched as an expensive magazine by it's new owner Bhaskar Sunkara an American writer and owner of
The Jacobin
. Hew is a former Vice-Chair of the Democratic Socialists of America.
The launch has come under some unwelcome scrutiny when the
Pay Day Report
reorted:
In his bid to take over the historic British left-wing magazine, The Tribune, Jacobin publisher Bhaskar Sunkara is being accused of reneging on wage deal by employees of the paper, who kept the publication alive during struggling times......
In the last few years, the Tribune struggled with financial issues and discontinued print editions in January. During this period of financial distress, a skeleton crew of writers and editors struggled to keep the publication afloat as a strictly online publication as they shopped for buyers of the storied publication. As part of his proposed takeover of the publication, Sunkara promised to pay the writers only 70% of the back wages they were owed and give them their jobs when they were returned.

Now, writers say that Sunkara has reneged on his promise to bring the workers back after they agreed to accept only 70% of his wages owed for the years they spent keeping the publication alive.
In the past Bhaskar Sunkara has been accused of underpaying his writers on the Jacobin. This does not bode well for the future of the magazine despite a good relaunch.
One final little niggle is
Tribune's
claim to be the "oldest socialist publication" which of course is not true and John D Wight of the Socialist Party of Great Britain (an organisation you take an exam to join) wrote an indignant letter which appeared in the CPGB's Weekly Worker;
The newly relaunched Tribune magazine first issue was printed in September 2018. The first falsehood it contained could not have appeared any earlier, coming straight after the title. Not only that - the falsehood is a major one, a whopper. It carries the subtitle, "Britain's oldest democratic socialist publication".

The Socialist Party of Great Britain have published the Socialist Standard every month, uninterrupted, since September 1904. Tribune, by contrast, was first published in 1937 - a detail which is also trumpeted on the cover.

The SPGB is a companion party of the World Socialist Movement, of which all companion parties operate democratically, regarding this as inseparable from socialism. One such companion party, the World Socialist Party of the United States, marked their centenary in 2016, including advertising enquiries with Jacobin, whose owners now also own Tribune.

This sloppy attitude to facts that are easy to check portends badly for the new Tribune.
Oh dear. And there's me thinking about taking out a subscription. Maybe I'll stick to 2000AD and Judge Dredd Megazine. Now they are worth subscribing to!